Training opportunities in vector borne disease science.
If you would like to share a training opportunity, please send the advertisement to flvbdcoe@gmail.com.
Jump to JOB BOARD

SECVBD Online Training Courses
SECVBD along with partners in the University of Florida's Institute of Food and Agricultural Sciences, is pleased to provide an online course in mosquito training for pest managers. Participants who complete the 11 modules in the course will learn to identify and understand the mosquitoes of major importance in the urban environment, their life cycles, the general methods of control, personal protective equipment required for safe insecticide application, and the laws and regulations governing mosquito control for the urban pest management industry.
CEUs have been approved for FL, SC, AL, CO, CA, and AZ at this time. If your state is not listed, and you would still like CEUs for this training, please contact Kaci McCoy prior to enrolling at kd.mccoy@ufl.edu
This course is an introduction to ticks, tick-borne diseases, and tick control for employees in the urban pest management industry, public health entomologists, and anyone interested in learning more about ticks. Students will learn about tick biology, identification, surveillance methods, tick management, common tick-borne diseases, safety and prevention, and how all of these modules connect to overall public health.
This course is currently approved for  the following CEUs:
FDACS CEUs (maximum 2.0) in the following categories: Commercial Lawn & Ornamental; Commercial General Household Pest Control; Public Health
California Department of Public Health CEUs: 2.25 hours of Category C (Invertebrates of Public Health)
Do you have questions about this course? Contact Kaci McCoy, Program Coordinator for the CDC Southeastern Center of Excellence in Vector Borne Diseases by email at: kd.mccoy@ufl.edu
Enroll here!
Already enrolled? Access the course here.

In-Person Development and Training

About the India-EMBO Lecture Course
Malaria is a classical example of a complex disease that is shaped not only by the interactions between the parasite, vectors and humans at the molecular level but also by the environment in which they all thrive. Malaria elimination is inconceivable in absence of a detailed understanding of these molecular interactions.
The principal themes of this India|EMBO Lecture Course are overlapping and revolve around malaria molecular epidemiology, evolution & population genetics. The main objective of the course is to collate and transfuse the state of the art principles, practices and understanding of the central theme between the experts in malaria (and beyond) and the current and future torchbearers of malaria elimination (and finally, eradication). This India|EMBO Lecture Course is designed in an interactive (rather than didactic) way with multi-directional and multi-dimensional perspectives and provide ample opportunities for interaction. In addition to the lectures, the participants will be benefited from a hands-on exercise, networking sessions for scientific writing, work-life balance, and career guidance.
This India|EMBO Lecture Course is aimed at PhD students, PostDocs and young researchers, however, researchers from academia and industry who are interested to learn and apply the knowledge are also encouraged to apply.
This course package includes:
Lectures, deliberations, and discussions from 14 global experts
Six days of an academic feast on Malaria molecular epidemiology, evolution & population genetics
Residential course with all accommodation and meals costs covered in the registration fees
Nominal registration fee of 60-90 Euros
Unique opportunity for PhDs and Postdocs to learn, socially interact, and collaborate with global leaders
Includes sessions on career guidance, work-life balance, and research writing
Bonus: the registration cost includes a local excursion in Delhi with local food and a great chance to explore India
When: November 17-23, 2022
Where: New Delhi, India
Registration: https://meetings.embo.org/event/22-malaria
Registration deadline: July 31, 2022
We are excited to share with you an opportunity to be trained in all things 'tick' at the "Tick University 2022," which will be held June 1st – 3rd in Nashville, TN! The SECVBD is providing a competitive fellowship to attend the training, which will offset the costs of lodging and/or travel for select applicants.
About the Tick University: The Tick University is part of the SECVBD's Southeast Tickborne Emergent Pathogen Surveillance (STEPS) program. The training will be hosted by Dr. Abelardo Moncayo (TN DOH) and held at the Tennessee Department of Health Laboratory Services in Nashville, TN on June 1st – June 3rd, 2022.
We are excited to provide this training for individuals who have career trajectories aligned with public health entomology and have an interest in tick and tickborne pathogen surveillance. Topics to be covered will include practical overviews of tick biology, tick identification, tickborne diseases, and nationally-relevant current topics, as well as hands-on training in field collection methods, tick identification practice, and laboratory processing demonstrations.
About the Tick University Fellowship: The SECVBD is providing a competitive fellowship to attend the training, which will offset the costs of lodging and/or travel. Selected individuals will receive reimbursements of approved accommodation and/or travel fees, up to $500 per person.
Sign up at: https://web.cvent.com/qvLA93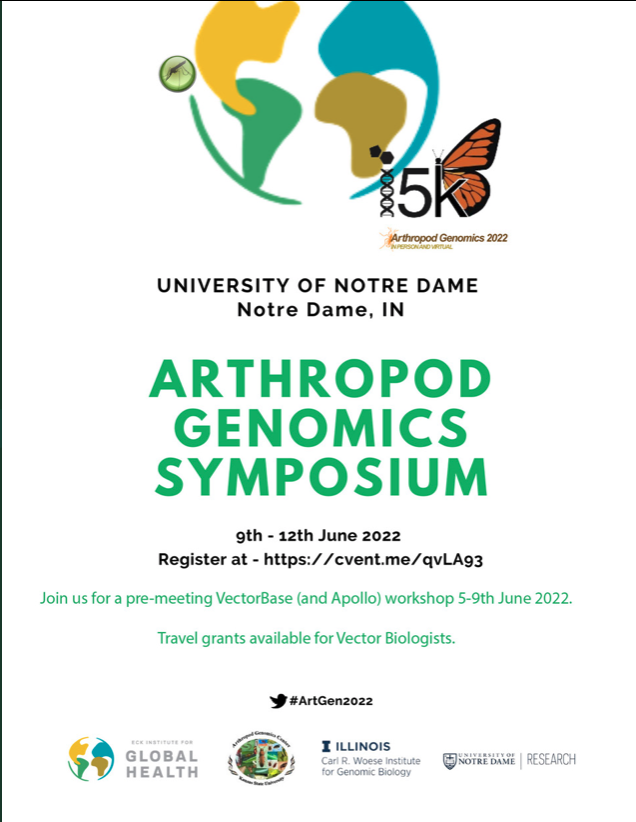 Biology of Vector-borne Diseases course
The Center for Health in the Human Ecosystem hosts the annual Biology of Vector-borne Diseases six-day course. This course provides accessible, condensed training and "knowledge networking" for advanced graduate students, postdoctoral fellows, faculty and professionals to ensure competency in basic biology, current trends and developments, and practical knowledge for U.S. and global vector-borne diseases of plants, animals and humans. We seek to train the next generation of scientists and help working professionals to more effectively address current and emerging threats with holistic approaches and a strong network of collaborators and mentors.
The course is both lecture- and discussion-based and is delivered by internationally recognized experts, with integrated case studies of emerging vector-borne pathogens to highlight parallels and key distinctions in biology across plant, animal and human vector-borne diseases. This course sets an example of new vision, through leadership of the Center for Health in the Human Ecosystem, to create an enduring community of participants and instructors to expand the impact and sustainability of these approaches.
The fourth annual Biology of Vector-borne Disease course is scheduled for Monday through Saturday, June 13-18, 2022. Applicants will be notified of their acceptance and invited to register for the course. The course registration fee (USD $1,500) includes housing, meals, course materials and social activities. Registration will be due following acceptance into the course.
In the course, we are attempting to break down silos, to move people away from focusing on individual organisms, individual temporal and spatial scales of study and individual pathosystems, to seeing connections and parallels among all of these.
Read more and apply here!

Online Professional Development and Training

Like us on Facebook and follow us on Twitter!